An impeccable quality and freshness
GUARANTEES OF QUALITY
HVE, BIO, IFS and Global GAP: labels to certify the quality approach of the vegetable industry
---
The management of "La Légumière" has chosen to implement a HACCP approach (Hazard Analysis and Critical Control Points) and the application of good hygiene practices, in order to :
-To meet the requirements of its customers
-Guarantee the safety and quality of vegetables
-To comply with the regulations and legislation, in particular the EC178/2002 regulation.
In the respect of good agricultural practices, our producers are committed to a GLOBALG.A.P. approach. This certification is based on the principles of prevention of safety and environmental risks, analysis and control of sanitary risks, sustainable or reasoned agriculture. GlobalGap option 1 certification is obtained by each of our producers individually. In the continuity of the quality approach, La Légumière's ambition is to work on a High Environmental Value (HVE) agriculture with its producers.
In 2005, La Légumière obtained the certification "Product from Organic Agriculture" for the packaging.
The IFS certification, obtained on the Alliums range since 2017, guarantees the safety and quality of food products. It therefore provides an advantage over its competitors and improves customer satisfaction. This same certification was obtained in 2019 for Ancient Vegetables.
These numerous certifications allow the company to improve its reputation through the quality of its products and to maintain its level of requirement in a continuous improvement process. To ensure that standards are met, audits are conducted annually.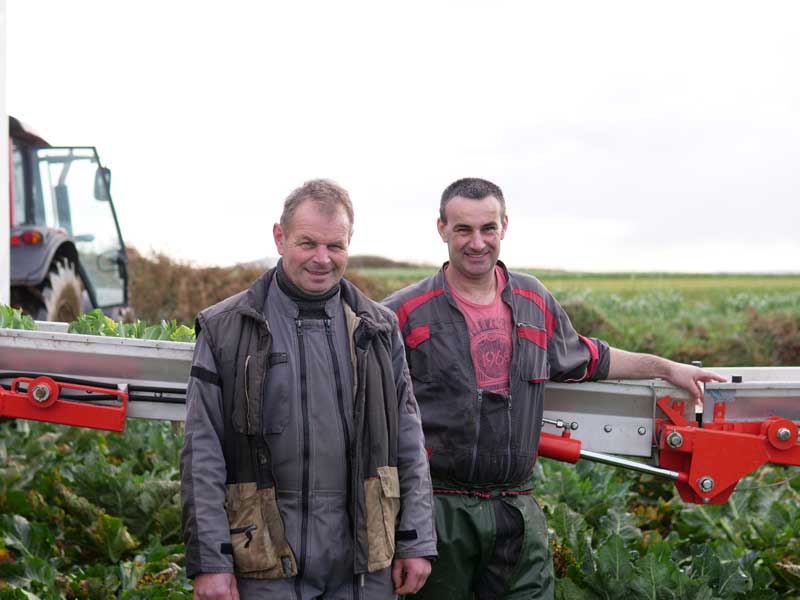 Laurent, Ronan and Frédéric Méar
Producers for La Légumière
---
Laurent, Ronan and Frédéric Méar have been producing vegetables for La Légumière for many years. The cultivation of Breton vegetables has no more secrets for these three brothers.