Focus on products
of the season
Shape and external appearance
---
Shape of a small blistered caterpillar.
Composed of 80% water, they also contain 17% carbohydrates and 3% vegetable protein.
Scientific and botanical name
---
Stachys affinis (Family lamiaceae or labiatae)
Jade colored on the day of harvest, crosne is a vegetable that burns very quickly.
This vegetable is native to China. At the end of the 19th century, it was imported and acclimatized in France, in the garden of a commune of Essonne named Crosne which gave it its vernacular name. Planted in April, crosnes are harvested at the end of October. Harvesting is done by hand because mechanical removal blackens the tubers.
Very easy to cook. After washing with water, rub them in a cloth with coarse salt to remove the thin skin. Then rinse, drain and fry in butter for 4 to 5 minutes. To be enjoyed with white meat or fish.
Avoid handling and keep them in the refrigerator in a damp cloth as they are not easily dried out.
Very fine taste, slightly sweet, reminiscent of artichoke with a slight nutty taste.
The seasonality of the product
---
Our recipes based on this product
---
Nous n'avons pas encore de recettes pour ce produit.
Packaging available for this product
---
Colis carton, Colis bois, Barquette
The seasonality of the product
---
Discover all the products of La Légumière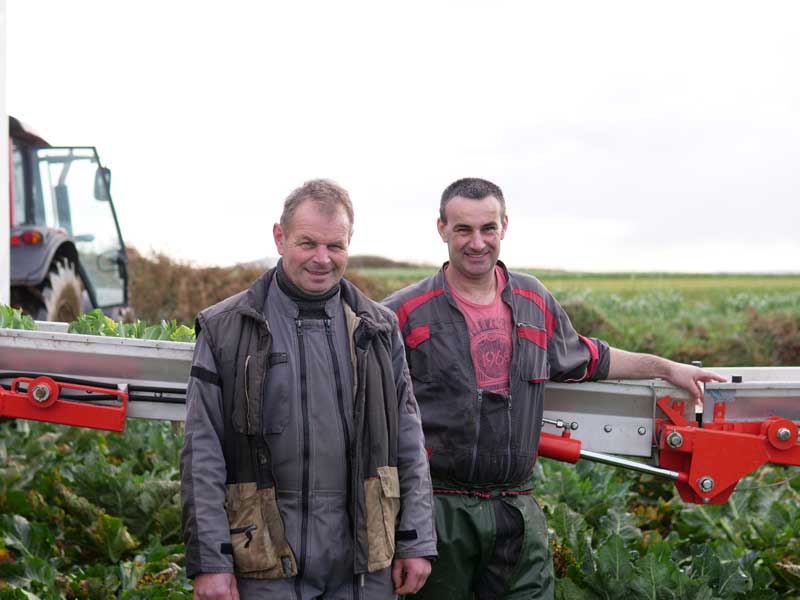 Laurent, Ronan and Frédéric Méar
Producers for La Légumière
---
Laurent, Ronan and Frédéric Méar have been producing vegetables for La Légumière for many years. The cultivation of Breton vegetables no longer holds any secrets for these three brothers.
All our seasonal products
Discover a range of fresh and local products
---